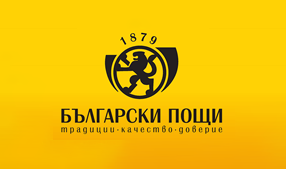 Bulgarian Posts Plc is a modern and fast-developing company with history and traditions that date back to 1879. The company is the designated postal operator on the Bulgarian market and has a leading position in a highly competitive market. It is 100% owned by the Ministry of Transport, Information Technology and Communications of the Republic of Bulgaria.
Bulgarian Posts Plc is a commercial organization offering a broad range of services: postal services; money orders and payments services; courier services; subscription for periodical editions; collection of utility bills for electricity, water supply, telephone, mobile services; hybrid mail, direct mail; customs services, etc. At the same time the company plays an important social role through the provision of the universal postal service, payment of pensions, social benefits, etc.
The network of the company consists of around 3000 post offices and it runs one of the biggest vehicle fleets in the country, which means that we reach Bulgarian citizens in every town and village. The company is also one of the biggest employers in Bulgaria with around 10,000 employees.
Bulgarian Posts Plc is a member of PostEurop (Association of European Public Postal Operators), the EMS Cooperative of the UPU and the E-Parcel Group.
Over the last decade Bulgarian Posts Plc has gained significant experience in project management (application process, implementation and reporting) as it has taken part in various projects both on a national and international level. Moreover, most projects have dealt with topics related to HR management, which is a top priority for the postal industry given its labour-intensive character.
International Projects
INNOV'AGE in the Postal Sector (2016-2019, Erasmus +)
New Integrated Training System on Insurance Intermediary (2017-2019, Erasmus +)
Training Partnership for a Changing Post (2011-2012, Leonardo da Vinci)
Projects under the European Social Dialogue Committee for the Postal Sector
National Projects
Social Innovations for Human Resources Development at Bulgarian Posts Plc (2012-2013; Human Resources Development Programme)
Improving Safety at Work at Bulgarian Posts Plc (2013-2015; Human Resources Development Programme)
Transport for the Employees of Bulgarian Posts Plc to and from the Bulgarian Exchange and Sorting Center (2013-2015; Human Resources Development Programme)
Projects for improving the labour environment under the national Labour Conditions Fund (2016-2019)
Students' Internships (2017-2018, Science and Education for Smart Growth Programme)